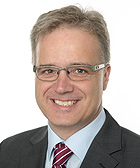 Prof. Stefan Holdenrieder
Institute of Laboratory Medicine, German Heart Center Munich of the Free State of Bavaria, Clinic at the Technical University Munich
Lazarettstraße 36, 80636
Munich, Germany
Positions:
| | |
| --- | --- |
| since 2016 | Director of the Institute of Laboratory Medicine, German Heart Center Munich |
| since 2016 | Head of the Biomarker Research Center Munich Primary Investigator in international biomarker trials |
| since 2014 | EQA Consultant for Tumor Marker Ring Trials at Instand e.V. |
| since 2013 | Secretary of the ISOBM Board |
Research interests:
Lab diagnostics in oncology, cardiology, immunology, neurology, pediatrics
Pharmacogenomics, therapeutic drug monitoring
Development and evaluation of new biomarkers: circulating nucleic acids, nucleosomes, histone modifications, miRNA, exosomes, immunogenic cell death markers
New technologies: Liquid profiling, NGS, BEAMing, SPR, mass spec, multiplex assays
Establishment and coordination of Biofluid Biobanks
Experimental Cardio-Immunology
5 relevant recent publications:
Holdenrieder S, Wehnl B, Hettwer K, Simon K, Uhlig S, Dayyani F. Carcinoembryonic antigen (CEA) and cytokeratin-19 fragments (CYFRA 21-1) for the assessment of therapy response in non-small-cell lung cancer: a systematic review and meta-analysis. Br J Cancer 2017; 116: 1037-1045.
Görlach A, Holdenrieder S. Circular RNA maps paving the road to biomarker development? J Mol Med 2017; 95: 1137-1141.
Holdenrieder S. Liquid profiling of circulating nucleic acids as novel tool for the management of cancer patients. Adv Exp Med Biol 2016; 924: 53-60.
Korse CM, Holdenrieder S, Zhi X, Zhang X, Qiu L, Geistanger A, Lisy MR, Wehnl B, van den Broek D, Escudero JM, Standop J, Mu H, Molina R. Multicenter Evaluation of a New Progastrin-Releasing Peptide (ProGRP) Immunoassay across Europe and China. Clin Chim Acta 2015; 438: 388-95.
Kim S, Becker J, Bechheim M, Kaiser V, Noursadeghi M, Fricker N, Beier E, Klaschik S, Boor P, Hess T, Hofmann A, Holdenrieder S, Wendland J, Fröhlich H, Hartmann G, Nöthen M, Müller-Myhsok B, Pütz B, Hornung V, Schumacher J. Characterizing the genetic basis of innate immune response in TLR4-activated human monocytes. Nature Communications 2014; 5: 5236.